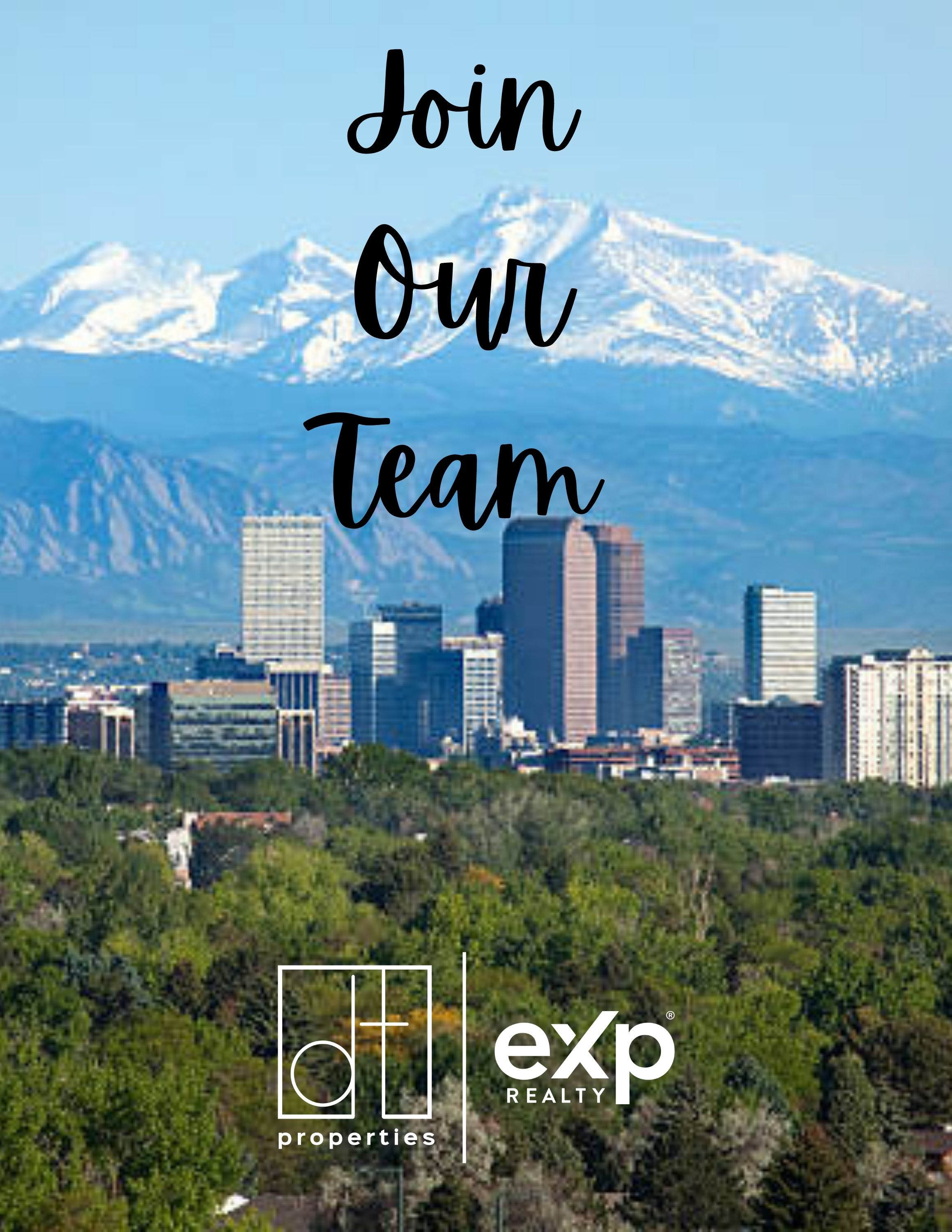 WHAT MAKES OUR TEAM EXCEPTIONAL
We are looking to add brokers and agents throughout the Denver Metro Area.
Expand or build your career with us. We have a track record of success in helping great brokers get better results and grow in their careers. We want our brokers to achieve their goals, we provide mentorship/coaching, client and lead opportunities (based on experience), systems, transaction coordination, best-in-class technology, and more. We work to create a win-win situation.
Our national affiliation with eXp Realty helps provide additional opportunities such as group health care opportunities and equity opportunities in a publicly-traded company.
We are a technology-driven real estate company and work hard to help our brokers work smart and efficient.
DT PROPERTIES CORE VALUES
Never leave a conversation without a future scheduled action.
Professionals don't follow up; they have a next scheduled action.
Strive for greatness: Live, work and play all out and don't apologize for having big goals.
Trust- Build and maintain trust. Have others best interest be the only consideration.
Deliver value always, put others first.
Think what's best for the client always. Do the right thing.
Discipline: maintain focus, execute the plan, and embrace and seek accountability.
Innovate and adapt, just because you have always done it one way doesn't mean that is the right way.
Be willing to learn!
Reward the action not the result. Execute the actions and results will come.
WHO ARE WE LOOKING FOR?
Are you a self-starter who wants to build a career? We're looking for ambitious, self-motivated individuals for rewarding full-time and part-time positions.
Do you have an enthusiastic personality and enjoy helping people.
Are you a team player who thrives working with a tight-knit company where their activities directly affect the bottom line? Successful candidates will display drive, plus have a high level of energy, schedule flexibility, and an insatiable desire for success!
THIS IS WHAT WE PROVIDE
Client Opportunities and Leads (based on experience)

First-class marketing materials and support

Extensive back-office paperwork support

A proven training/mentorship program

Advanced mentoring on ongoing basis

A respected, highly reputable team of motivated individual
RESPONSIBILITIES INCLUDE
Lead Generation: Consistent lead generation and follow-up to grow the sales pipeline
Community Knowledge: Gather local community information to be able to answer any questions from your client about potential homes
Build Your Business: Build your business by serving customers generated by DT Properties by eXp Realty, your own prospecting efforts, and sphere.
Contracts: Create written purchase offers for buyer clients to create a quick and easy closing process
Customer Service: Provide world-class customer service to clients to ensure their satisfaction and trust and increase sales volume
Nurture Clients: Prospect and nurture new and existing client opportunities
Prospecting: Rigorously prospect for new business by following up with leads in your pipeline to ensure sales growth
Training & Mentoring: Receive hands-on training and mentoring
Guide Clients: Guide your customers as they navigate their home purchase or sale, representing them through negotiations and the closing process
QUALIFICATIONS
Driven, self-motivated, and desires professional growth
Technology-driven
Past sales experience is preferred
Show good organizational and time management skills
Ability to communicate effectively (oral and written)
Must have a valid Colorado Real Estate License